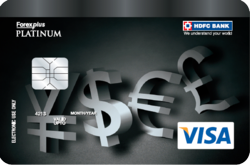 The HDFC Bank ForexPlus Chip Card card amounts are in Indian Rupee. Card Rank is based on site visitor interest.
Card View Rank
3.30
Type
Reloadable
Brand
Visa
Card Fee
125.00
Load Min
0
Load Max
0
Max balance
0
Reload Fee
75.00
Atm Fee
120.00
Monthly Fee
0.00
Personalize
Yes
Credit Inquiry
How To Get
Direct Visit to Branch
Issued By
HDFC Bank
Website
Link to card website (opens in new tab)
Add'l Details
click header to sort
Travelling abroad? Know How to Register/Activate HDFC Bank ForexPlus Card Online.