Combined, Chrome and Firefox are the browsers of choice for most online users. Chrome accounts for more than 57 percent of web users, while Firefox is the browser of choice for more than 5 percent of web users.
Although Chrome and Firefox are very popular, it doesn't mean you have to use them.
Depending on your needs and browsing habits, there may very well be another browser that's a better fit.
Here are six alternative browsers worth considering.
1.
Vivaldi
The Vivaldi browser is a dream for anyone who values customization. Vivaldi enables you to change tab positions, color choices, start page images and more. Users of the Opera browser will be familiar with Vivaldi's interface to some extent, since Opera's former CEO helms Vivaldi.
Other remarkable features include a built-in note-taking app, a secondary web page side panel and compatibility with extensions in the Chrome Web Store.
Additionally, the browser has features that make navigation easy, such as saved tab sessions, tab stacks and mouse gestures.
However, Vivaldi can use a substantial amount of memory compared to Chrome or Firefox, with syncing passwords and settings also proving more difficult.
2. Torch
Media lovers may embrace the Torch browser, which places multimedia at the top of its priorities.
Torch touts a "Media Grabber" feature, enabling you to download media from the web with a single click.
Additionally, the browser touts a built-in torrent manager, Torch Torrent.
Plus, impatient media viewers can watch videos before they finish downloading, courtesy of Torch Player.
Torch offers ample options for media lovers, though those who use the web for lighter experiences, like reading and sending emails, may find the browser's abundance of features overbearing.
Some users also report stability issues when installing.
As Torch is based off of Chromium, it will look familiar to Chrome users and is compatible with extensions from the Chrome Web Store.
3. Epic Privacy Browser
If privacy and security are your top priorities when browsing the web, the Epic Privacy Browser may be the browser for you.
Touting itself as the world's only private and secure browser, the Epic Privacy Browser features a free built-in VPN, protecting your browsing history from data collectors and your ISP, even when you're on public Wi-Fi.
Other browsers have incognito modes, but Epic promises an even more secure experience, with the ability to block WebRTC calls and special fingerprinting techniques websites use to extract data.
As Epic is also based off of Chromium, it is compatible with extensions from the Chrome Web Store.
4. Chrome Alternative Browser (3 Browsers That Beat Chrome!)
Ghost Browser
Ghost Browser presents an interesting approach for those seeking to separate their online browsing experiences. For example, you can have separate tabs for your work account and personal account, helping reduce distractions.
Tabbed projects are also available, which is very useful when you're working on a project and want to bring up all relevant bookmarks in a single click.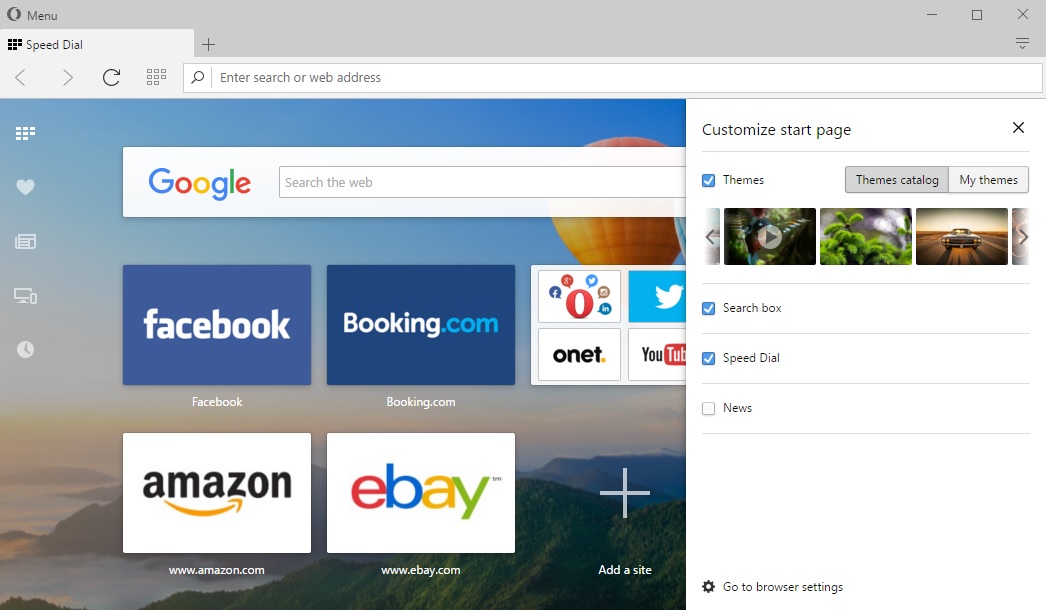 Plus, Ghost Browser is a Chromium browser, so it's compatible with the Chrome Web Store.
Although Ghost Browser has a free version, its options limit users to three sessions at a time and do not include an incognito mode, so the $10- to $20-per-month cost for the upgrade may deter some users.
5.
Midori
If you're seeking a lightweight browsing solution, Midori is worth strong consideration.
Chrome is a fantastic browser, but is is still the best among new competitors?
The browser touts high speed, while still having the ability to handle web technologies like CSS 3 and HTML 5. Plus, Midori is compatible across a variety of Linux distributions.
Although Midori may lack the media options and customization of other browsers, it remains one of the fastest-responding and lightest-weight browsers available.
6.
Opera Neon
Opera Neon strives to provide a peek at future browsing, with a futuristic and sharp interface complementing features like responsive tabs and improved visual functions, like a split-screen mode, video pop-out, a built-in snap-to-gallery tool and a newly built Omnibox.
The browser is still in its early stages, and is therefore more unstable, though its features offer an exciting look at the potential of future web browsers.
A multitude of browsers exist beyond Chrome and Firefox, all offering different emphases that may be a great fit for your browsing preferences.
Try these six as a starting point, or branch out and see what else you can find on your own.