We have officially made it half way through our Bitcoin Gambling Investment experiment, six months down and six months to go! This month our Bitcoin investment grew 4.24% month on month on a Bitcoin basis or 0.49% on a USD basis (due to the slight decrease in value of Bitcoin).
In total our 5 Bitcoin initial investment is now worth 6.44548 Bitcoins which is a 28.91% return in just 6 months.
When we look at the return in USD, our $3000 initial investment is now worth $5936 which is an incredible 97.88% return in just 6 months!
A summary of the investment returns on the current Bitcoin Gambling sites held is tabulated below:

A plot of the weekly returns from all site investments (running and discontinued) is below: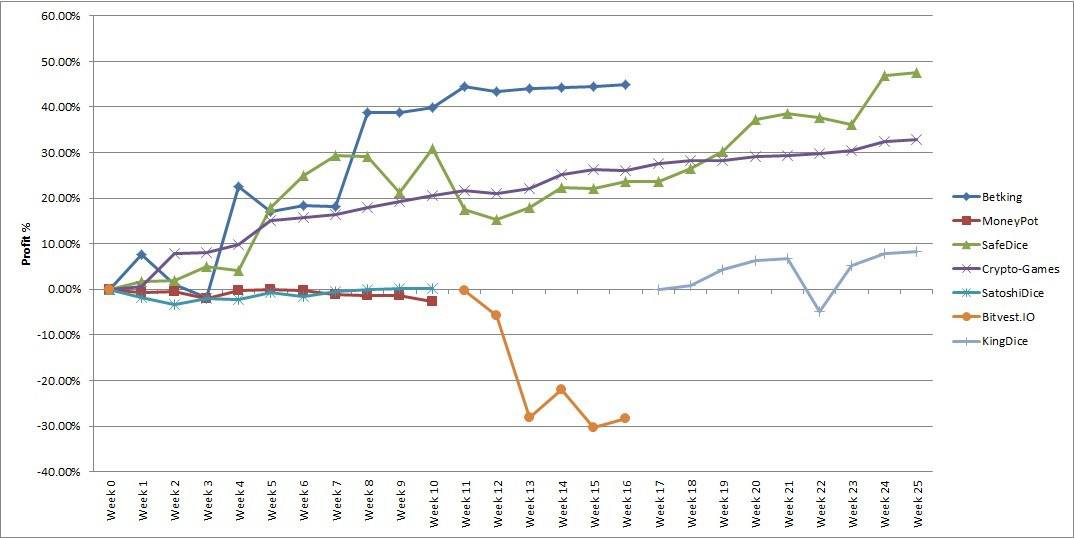 This month was much of the same from last month with KingDice and Crypto-Games slightly increasing and SafeDice adding the most to our balance.
Some new and old sites have tempted us to add them to our Bitcoin Gambling Experiment, but it is hard to want to rock the boat given the excellent returns we have had so far.
Worth mentioning is YOLOdice which is a new dice site that you can invest in.
It gives a great share to bankroll investors and allows up to 10x leverage. To read our review of YOLOdice click here.
Bitvest has also been performing very well, but we are still a bit shy after poor risk management at the site a few months back that lost us a lot of Bitcoins.
Bitcoin Gambling Investments 6/12 Summary
Overall the total return after five months of 97.88% on a USD basis is incredible and way above what we expected given the risk profile.
The current portfolio of KingDice, SafeDice and Crypto-Games continue to perform well and we are yet to make any changes. That said YOLOdice and Bitvest would be the next sites we would consider to help diversify our holdings. Again we are very happy with the first 6 months and hope the next 6 months will be just as good!
What do you think will happen next?
The Future Of Crypto Investment (w/ Dan Morehead And Joey Krug) - Interview - Real Vision™
Will the next 6 months be better, worse, or more of the same?
Written by Melvin Draupnir on February 15, 2017.