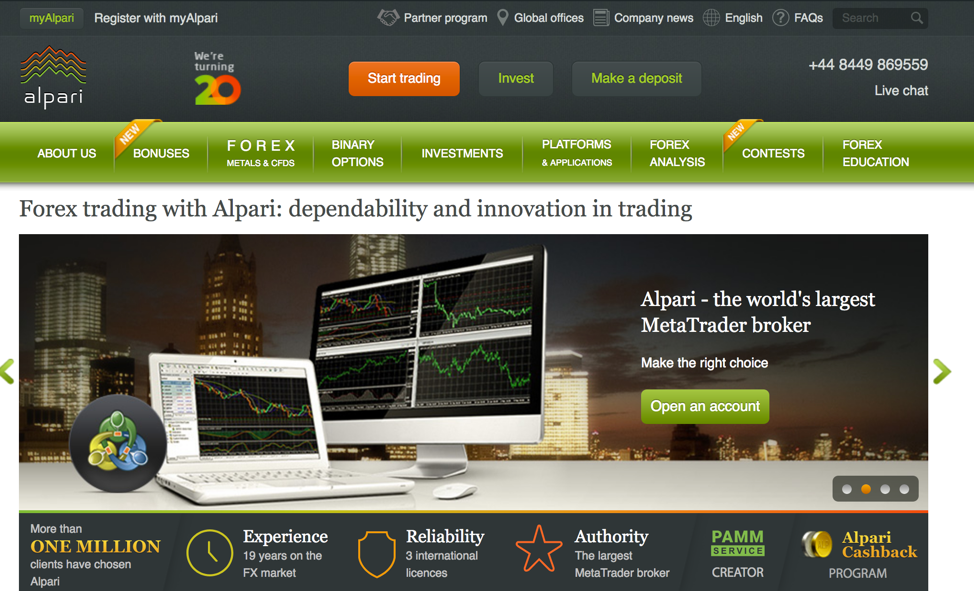 Alpari Competitors
Please Note: Alpari was not included in the 2019 annual review. As a result, this broker's ratings may be outdated. Read our Best Forex Brokers 2019 guide for a look at the top rated forex and CFDs brokers.
Founded in 1998, the Alpari group of companies has a long history in the retail forex trading industry as an early pioneer in offering the Metatrader platform suite, including the MetaTrader 4 (MT4) and MetaTrader 5 (MT5) trading software.
Today, the Alpari brand offers traders access to nearly 50 forex pairs and nearly 30 CFDs on indices, commodities, precious metals, and on Bitcoin.
The broker provides managed account investors with PAMM funds, structured products, and social-trading via the Signals Market on Metatrader.
The Alpari group of companies have multiple entities that use the Alpari brand that are regulated in different emerging and offshore regulatory hubs with offices in Russia, Ukraine, Belarus, Kazakhstan, Uzbekistan, Moldova, and Mauritius.
Two of Alpari's entities in Russia were licensed by the Central Bank of Russia (CBR) up until the end of January 2019 after the CBR banned numerous FX brokers.
Alpari Review
In Belarus, the brand has an entity authorized by the National Bank of the Republic of Belarus.
Its other offshore entities include Alpari International Limited which maintains licenses with Belize's Financial Services Commission (FSC), and the Financial Services Authority (FSA) of St.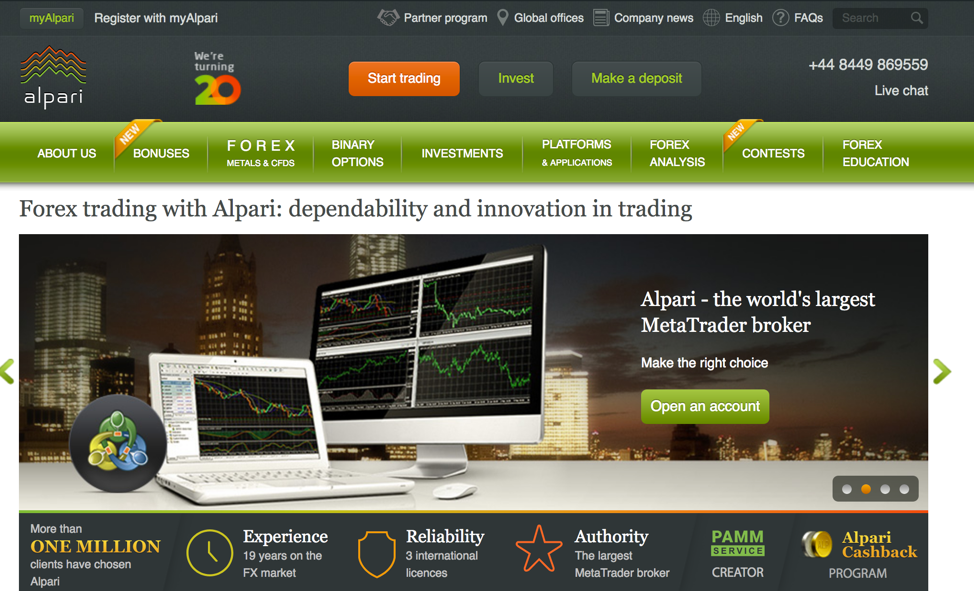 Vincent and the Grenadines under the same entity name (Alpari Limited) which is a member of the Financial Commission, a Hong Kong-based EDR for forex.
Is Alpari Safe?
Alpari is considered high-risk, with an overall Trust Score of 69 out of 99. Alpari is not publicly traded and does not operate a bank.
Alpari is authorised by zero tier-1 regulators (high trust), zero tier-2 regulators (average trust), and one tier-3 regulators (low trust).
Introduction
Learn more about Trust Score.
Regulations Comparison
| Feature | Alpari |
| --- | --- |
| Year Founded | 1998 |
| Publicly Traded (Listed) | No |
| Bank | No |
| Tier-1 Licenses | 0 |
| Tier-2 Licenses | 0 |
| Tier-3 Licenses | 1 |
| Trust Score | 69 |
Offering of Investments
The following table summarizes the different investment products available to Alpari clients.
| Feature | Alpari |
| --- | --- |
| Forex: Spot Trading | Yes |
| Currency Pairs (Total Forex pairs) | 48 |
| CFDs - Total Offered | 16 |
| Social Trading / Copy-Trading | Yes |
| Cryptocurrency traded as actual | No |
| Cryptocurrency traded as CFD | Yes |
Commissions & Fees
The commissions and fees at Alpari vary depending on the account type and platform used.
For example, in the ECN.MT4 account, average spreads on the EUR/USD were listed as 0.8 pips by Alpari, whereas spreads on the NANO.MT4 account were 2.0 pips for the EUR/USD pair.
Aside from the nano account, which has no minimum deposit requirement, the other accounts can be opened with amounts ranging from $300 to $500, and the execution method may also vary across account types, depending on the account opened. An example of differences in average spreads across account types, among other differences, can be seen in the excerpt below from Alpari:
In addition, Alpari offers commission-based pricing on its PRO ECN MT4 account, and ECN MT5 accounts, added to average spreads of 0.6 and 0.3 pips, respectively for the EUR/USD.
Alpari Cashback
The commission rate of $16 per million or $32 round-turn (0.32 pips) brings the all-in cost to 0.92 and 0.62, respectively, on the PRO ECN MT4 and ECN MT5 accounts.
These account types also provide a greater range of tradable instruments, including ten-stock index CFDs and three commodity CFDs, in addition to nearly 50 forex pairs.
The ECN MT5 account is the most competitive of Alpari's account offerings, in terms of the all-in cost for commissions and spread fees to trade (using the above example).
| Feature | Alpari |
| --- | --- |
| Minimum Initial Deposit | $100.00 |
| Average Spread EUR/USD - Standard | 0.92 |
| All-in Cost EUR/USD - Active | 0.82 |
| Active Trader or VIP Discounts | Yes |
Customer Service
For our 2018 Forex Review, 129 customer service phone tests were conducted over three months.
The data collected is institutional grade.
Best Forex Brokers UK Comparison
On average, three questions were asked for each test. To score each test, the tests were divided into three separate groups and scores were given for the time taken to connect with each support representative and the ability of each representative to professionally (and thoroughly) answer each question.
A Net Promoter Score was also given for the overall experience.
Results:
Research
Alpari integrates research content from several third-party providers under its Forex Analytics section, including online videos from Trading Central TV, signals from AutoChartist and Trading Central, headlines from FxWirePro, and an economic calendar and global interest rates from FxStreet.
Alpari complements its research offering with content from its in-house team of analysts, covering fundamental and technical analysis posted on its website as daily blog updates, and daily videos on the Russian version of its YouTube channel.
The company's UK-based research house, Alpari Research & Analysis, provides content in the form of published market analysis articles and videos and holds live seminars from time to time in different parts of the world.
Overall, Alpari has as a good range of research slightly beyond the bare minimum by industry standards, and a good range of third-party content, including a comprehensive list of definitions of macroeconomic indicators organized neatly to help keep its clients informed.
| Feature | Alpari |
| --- | --- |
| Daily Market Commentary | Yes |
| Forex News (Top-Tier Sources) | Yes |
| Weekly Webinars | Yes |
| AutoChartist | Yes |
| Trading Central (Recognia) | Yes |
| Delkos Research | No |
| Social Sentiment - Currency Pairs | No |
| Economic Calendar | Yes |
Platforms & Tools
Alpari is a MetaTrader-only broker.
This means it offers the suite of platforms from MetaQuotes Software Corporation, developer of the widely popular MT4 and MT5 platforms for desktop, mobile, and web. To learn more about MT4 and MT5, read our guide to MetaTrader.
While MetaTrader 4 and MetaTrader 5 come standard with little that varies from broker to broker on the surface of the platform, there can be significant differences in how the platform is set up when it comes to account types, trading spreads and commissions, the available execution method, and other tools, and reporting features that can affect your trading experience.
Here is a summary of the differences in features between Alpari's MetaTrader platform setup and other brokers' MetaTrader experience:
Spreads in MT4 and MT5 vary for the same instruments (i.e., EUR/USD) based on account type
Commission & Fees vary, based on account type and platform chosen
News headlines in the platform are streamed from Dow Jones Newswire
And to round off its Metatrader offering, Alpari has a wide variety of funds for investors from its Percentage Allocation Money Management (PAMM) offering, where users can choose to allocate money to PAMM managers and structured PAMM Portfolios.
Mobile apps
| Feature | Alpari |
| --- | --- |
| Virtual Trading (Demo) | Yes |
| Proprietary Platform | No |
| Desktop Platform (Windows) | Yes |
| Web Platform | Yes |
| Social Trading / Copy-Trading | Yes |
| MetaTrader 4 (MT4) | Yes |
| MetaTrader 5 (MT5) | Yes |
| cTrader | No |
| Charting - Indicators / Studies (Total) | 51 |
| Charting - Drawing Tools (Total) | 31 |
| Charting - Trade From Chart | Yes |
| Watchlists - Total Fields | 7 |
| Order Type - Trailing Stop | Yes |
Mobile Trading
The native versions of the mobile app for MetaTrader 4 and MetaTrader 5 are available for Android and iOS devices straight from the developer.
To learn more about Metatrader mobile app, read our guide to MetaTrader.
| Feature | Alpari |
| --- | --- |
| Android App | Yes |
| Apple iOS App | Yes |
| Trading - Forex | Yes |
| Trading - CFDs | Yes |
| Alerts - Basic Fields | Yes |
| Watch List | Yes |
| Watch List Syncing | No |
| Charting - Indicators / Studies | 30 |
| Charting - Draw Trend Lines | Yes |
| Charting - Trend Lines Moveable | No |
| Charting - Multiple Time Frames | Yes |
| Charting - Drawings Autosave | No |
| Forex Calendar | No |
Other Notes
Alpari lets clients convert their deposit to an equivalent in Gold (GLD), where their account balance will be denominated in units of GLD, and where the underlying fluctuating price of gold will have a subsequent effect on the value of their balance when converting back to a base currency.
This provides traders with more ways to have their account balance denominated in other assets beyond the typical major currencies offered.
It's worth noting that when users register for a demo account trial, a live account will also be created along with a set of credentials to login to the myAlpari web portal for account management. The customer agreement will be with Alpari's Belize-regulated entity or with its entity that is FSA-registered in St.
MetaTrader 4 for desktop computers
Vincent and the Grenadines, depending on where the account is established.
In early May 2017, Alpari announced the addition of several new currency pairs and precious metal CFDs, including the USD/TRY, EUR/TRY, GBP/TRY, and TRY/JPY pairs, as well as Gold and Silver versus the EUR, GBP, and CHF (a total of six new metals instruments).
Lastly, in 2017 Alpari also launched CFDs on cryptocurrency, with Bitcoin being its first available product thus far.
Clients can open a maximum trade size or position of 30 bitcoins at a time with zero leverage available (i.e. 100% margin required).
Final Thoughts
Alpari has done a great job streamlining the signup process so users can easily select from the five available account types during the registration process.
With three different account options for MT4 and two for MT5, traders have plenty of choices when considering the range of markets, execution type, and applicable spreads to access at Alpari.
It would be beneficial to see Alpari acquire another regulatory license in a major financial center, despite the broker having entities regulated in large jurisdictions such as Russia.
Alpari used to have a US-regulated entity and a UK-regulated entity in the past, although the former was closed as the US forex market consolidated, and the latter was one of the unlucky victims of the Swiss Franc anomaly in 2015.
Alpari uk forex broker
Overall, Alpari delivers for traders that place high value on having access to some of the lowest margin requirements for forex, competitive spreads on several of its account types, and access to PAMM managers and portfolios to help the firm cater for self-directed and passive investors. The arrival of cryptocurrency CFDs is also a net positive for Alpari.
Methodology
For our 2018 Forex Broker Review we assessed, rated, and ranked 43 international forex brokers.
Alpari Review 2019: Is This a Scam Broker? - What We Know
Each FX broker was graded on 140 variables. Learn more.
Forex Risk Disclaimer
"There is a very high degree of risk involved in trading securities. With respect to margin-based foreign exchange trading, off-exchange derivatives, and cryptocurrencies, there is considerable exposure to risk, including but not limited to, leverage, creditworthiness, limited regulatory protection and market volatility that may substantially affect the price, or liquidity of a currency or related instrument.
Commissions & Fees
It should not be assumed that the methods, techniques, or indicators presented in these products will be profitable, or that they will not result in losses." Learn more.
---
About the author: Steven Hatzakis Steven Hatzakis is the Global Director of Research for ForexBrokers.com. Steven previously served as an Editor for Finance Magnates, where he authored over 1,000 published articles about the online finance industry.
Steven is an active fintech and crypto industry researcher and advises blockchain companies at the board level. Over the past 20 years, Steven has held numerous positions within the international forex markets, from writing to consulting to serving as a registered commodity futures representative.